Green Ginger Garland were established in Hull 40 years ago, in the autumn of 1977, when a visiting friend suggested the ladies might do some morris dancing and suggested North West or garland. Garland appealed, and a group formed to learn Paper Flowers and "A French Garland Dance" (now known as Waving). This original group all had links with Folk Union One in Hull, and in many cases were already members of Green Ginger Clog or the Green Ginger Country Dance teams. Some members of this original group moved on to found Middleton Garland Team, which has since become Beverley Garland Dancers.
Over the years the team has danced at numerous festivals, fairs and private events, including Chippenham Folk Festival, Beverley Folk Festival, Rochester Sweeps in Kent, and Durham Folk Party (which they attended this year). Their repertoire includes a variety of garland dances, including some devised by the team, as well as some North West stick dances, Manx step dances, and even a dance with ropes, called The Knot (the idea is more along the lines of a maypole dance without a maypole, and they generally try NOT to get the ropes in a knot…).
Their kit has traditionally been red skirts, white blouses and a red shawl, but they are due to update this for the Day of Dance and the 2017-18 season, in a bid to 'funk up' the look and hopefully appeal to a new generation of desperately needed dancers.
They practise every Thursday night between 8-10pm in the dining hall of St Vincents RC Academy, in Queens Road, Hull. You are very welcome to come along and see what they are about and have a go, or just watch. If you want to book them for your event, or join the team, visit their website at www.greengingergarland.com.
---
Rackaback Morris are Hull's newest kids on the block. They are a mixed border team and formed in January 2011. They have built up a repertoire of traditionally inspired Border morris dances with their own Rackaback twists. They dance to music played on traditional 'morris' instruments including accordion, concertina and melodeon to well-known folk melodies and newly composed tunes.
According to the 1811 Grose's Dictionary of the Vulgar Tongue: A Dictionary of British Slang, University Wit and Pickpocket Eloquence, a Rackaback is "A monster with six eyes, three mouths, four arms, eight legs, five on one side and three on the other, three arses, two tarses, and a **** upon its back; a man on horseback, with a woman side-saddle behind him."
Some 200 years after the word 'Rackaback' appeared in Grose's Dictionary of the Vulgar Tongue a local concertina player gave the name to a tune he had composed. Along with a few friends he realised it would be a good tune to dance to. After reading the description of a Rackaback wit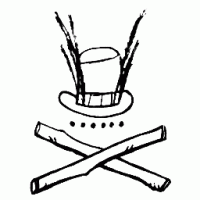 h its numerous arms and legs, it was decided that it did sound like it could describe a morris team. The name attached itself to the beginnings of a border morris team which started to take on an identity all of its own.
Rackaback dance in black with purple and a splash of gold, reflecting the association of past royalty with Hull – Kingston Upon Hull, the King's Town of Hull. Their Rackaback tag is based loosely on the pirate's skull and crossbones, as Hull is a city associated with sailing and all things watery.
They are always interested to meet new recruits. So if you're a musician who wants to play for dancers, or if you fancy dancing too, why not give it a try? No experience is necessary as full teaching is given. Come and enjoy the dance! Get in touch via www.rackaback.com.
They rehearse every Tuesday evening at 19.15pm, in the dining hall of St Vincent's Academy (HU5 2RQ); the entrance to the hall is through the gate in Queens Road and through the playground. Male/female, dancers/musicians, beginners/experts welcome, and all you need will be provided for you.
---
Beverley Garland have been established in the area for more than 30 years.
They dance in the style of North West clog and many of their dances bear the names of villages in the North West of England. However, they do also create their own dances, which are then given local names, e.g. Wednesday Market, High Street and Spark Mill Lane.
Although they are a garland team they also dance with sticks, bobbins, or handkerchiefs and can be recognised by their royal blue dresses, sky blue pinafores, red stockings and black clogs.
They are a friendly team and happy to welcome everyone to their Thursday evening practice sessions in the Minster Parish Hall, so whether you are a dancer, musician or would just like to watch what they do, please come along!
For further details, please contact Angela Harley (Captain) on 01377 271514 or Pauline Russell (secretary) on 01482 846246. Visit their website at www.beverleygarlanddancers.co.uk.
---
Makara Morris meet at Wansford Village Hall between 7.30-9.30pm most Mondays to practise. They aim to be able to dance out during the summertime,and to share the fun smile of morris with others. They can be recognised by their green tatters, their kit being representative of the legend of the green man, and their name Makara being part of the far history of the exploration of the green man. With their sticks, hankies and bells they try to capture the spirit of the lord of the dance.
Denise, Dave and Clive Walker formed the side in 2006; as a family they have been involved in morris dancing of different styles for more than 20 years. Makara is a Border side, and as well as having performed established dances, they now, several years on, enjoy doing ones of their own; written for and developed by the side together.
They now have a growing team of dancers and musicians and they enjoy both practices and dance-outs which have included the British Legion Hotel, care homes, sea fronts, riversides and weddings, as well as the more traditional fairs, pubs and folk festivals. Visit their website at makaramorris.4t.com.